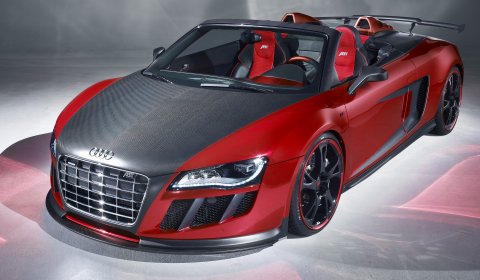 ABT is extending its line-up of R8 GTx models with this brand new ABT R8 V10 Spyder GTS, the Spyder version of the R8 GTR revealed last year in Geneva. The main thing you will notice is the combination between red and carbon dominating from the bonnet to the rear wing.
While designing the car, the motorsport department of ABT Sportsline paid attention to weight reductions and the perfect distribution of weight. With its carbon inlays at the side and on the covers of engine and convertible-top the cabrio shows what they achieved.
The front skirt, rear skirt, windscreen frame cover, red air scoops, engine bonnet and the mirrors are made of carbon fiber reinforced plastic. The Bavarian sports car brings 620hp onto the road thanks to an ABT Power kit. The stock 5.2 FSI V10 engine delivers 525hp. A performance improvement of almost twenty precent. The ABT R8 GT S sprints from 0 to 100km/h in 3.6 seconds and has a top speed of 320km/h.
Additional changes are the ABT suspension setup, sports exhaust system providing a nicer tune and the diffuser, rear wing and trapeze-shaped rear skirt. The front spoiler plate is adjustable, same goes for the rear wing. The light metal alloy ABT BR in 9×20 front and 11×10 rear or the CR Superlight in 9×19 front and 11×19 rear convert the power to the road.
On the inside the sports steering wheel, the center console, the shifting gate and parts of the door panels are in red carbon. As a contrast the remaining parts of the doors and the dashboard are covered with new leather. The red and black leather of the seats are combined with red safety belts, floormats and illuminated door sill panels.