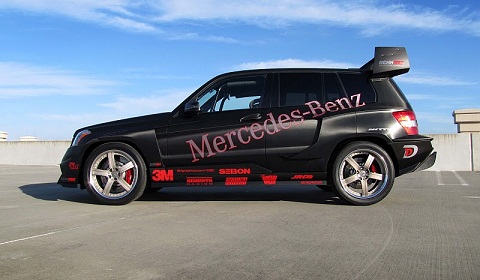 RENNtech have released new pictures of their 2008 SEMA show-winning GLK350 Hybrid Pikes Peak car. The car has changed very little in terms of mechanics; it's still powered by a a 3.5 liter V6 petrol and electric motor and still puts out around 350hp. There's very few changes in aerodynamic styling too, with much of the wide bodykit and specially created KW coil-over suspension remaining on the car.
The main change is the new 3M wrap. 3M have applied their 1080 Scotchprint textured automotive vinyl wrap to the car. It is a preprinted, 3.5 millimeter dual cast film finished in a combination of brushed steel (1080-BR201) and black carbon fiber (1080 CF-12) with subtle red pin stripping.
If you want to see the car, it'll be at the Pittsburgh International Automotive Show on February 10-13th, 2011. Additional stops on the tour schedule include Milwaukee, Cincinnati, Cleveland, Kansas City, Minneapolis and Denver. After its time on the road, the vehicle can be seen at the Mercedes-Benz Classic Vehicle Museum in Irvine, California.