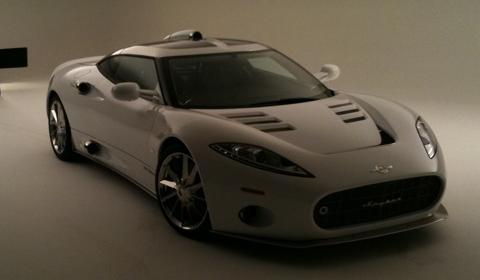 The absolutely stunning looking Spyker C8 Aileron will finally be ready for production after the upcoming Geneva Motor Show 2011 next week. The delay in production of the C8 Aileron is caused by the relocation of the production facilities and the Spyker Saab takeover.
About a year ago the production facilities for Spyker moved from Zeewolde, the Netherlands, to Coventry in the United Kingdom. This spring the production of the C8 Spyker Aileron will start at CPP, Coventry Prototype Panels, that employed an extra 40 people for the production of the new Spyker.
The Audi V8 engine in the concept will be swapped for a GM V8, the engine we know from the CTS-V and the Corvette ZR1. We expect to see this production ready C8 Aileron in Geneva next week. The car was photographed today in a studio in Amsterdam and revealed by the PR manager on his Twitter channel.