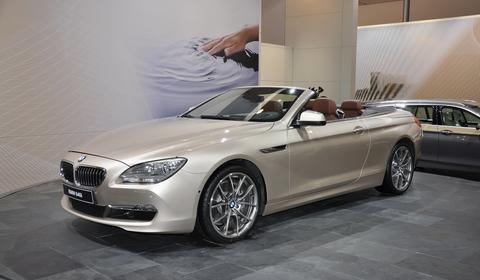 Next to the 1M Coupé, the guys from Munich also brought their four-seat luxury 6-Series convertible to Brussels for the European premiere in shape of a 640i.
By presenting this new 6-Series convertible BMW offers its first two engine choices. Both engines are V8s and create respectively 407bhp for the 650i and 320bhp for the less powerful 640i. The power is derived to the back wheels through an eight-speed sportautomatic gearbox.
The 650i will need exactly five seconds to reach the 100km/h (62mph) barrier while the 640i needs 0.7 seconds more. Top speed of both cars is limited to 250km/h (156mph).
Later this year there will follow a smaller petrol engine as well as a diesel version but the most interesting conversion will be the M6 which will probably debut as a closed coupé first.