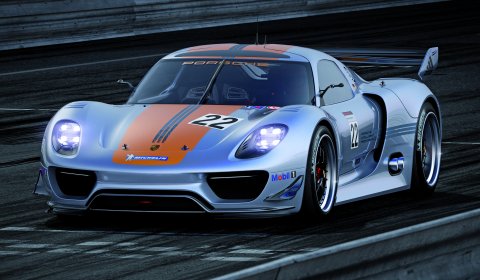 Porsche is continueing their commitment in the field of hybrid technology. At the Detroit Motor Show they have introduced the Porsche 918 RSR. The two-seater mid-engine coupé 918 RSR is a development from the 911 GT3 R hybrid and the design of the 918 Spyder combined in a super sports car.
With its flywheel accumulator the 911 GT3 R Hybrid obtaines its additional power from its own vehicle dynamics when braking. Porsche is now transplanting this technology into the mid-engine coupé 918 RSR, the motorsports version of the 918 Spyder concept car. Instead of a second seat, the flywheel accumulator is positioned next to the right of the console.
Motor racing technology also dominates within the particularly light, torsionally stiff carbon fibre-reinforced plastic (CFRP) monocoque. The V8 engine is a further development of the direct injection engine from the successful RS Spyder race car and now offers an output of precisely 563hp at 10,300rpm in the 918 RSR. The electric motors on the two front wheels each contribute 75kW to the peak drive power of exactly 767hp. This additional power, which is generated during braking, is stored in a flywheel accumulator.
In the 918 RSR, the two electric motors offer a torque vectoring function with variable torque distribution to the front axle. This additionally increases agility and improves steering response. Mounted upstream of the rear axle, the mid-engine is integrated with a racing transmission also based on the RS Spyder race car. This further developed six-speed constant-mesh transmission with longitudinally mounted shafts and straight-toothed spur gears is operated using two shift paddles behind the racing steering wheel.
The characteristic doors open obliquely upwards. The air intake in the roof between the wing doors, the quick-action locks on the front and rear CFRP lids, the two roof-mounted aerials for pit radio and telemetry, the RS Spyder-like small, lateral front flics or the air splitters beneath the front lip or no-profile racing slicks on 19 inch wheels with central locking, the vehicle can be recognised as an experimental racing laboratory.