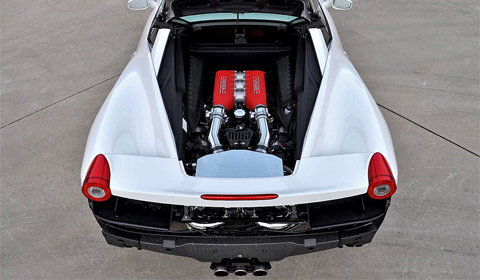 Underground Racing released the first images of their latest project: the Underground Racing Ferrari 458 Italia Twin Turbo. The kit is still in development but an output of over 1,000hp is expected.
Underground Racing praises Ferrari's job on the 458 platform and greatly enjoyed driving the stock Ferrari 458 Italia before taking it into their workshop for the development of their Twin Turbo package.
The package developed includes a Twin Turbo system with a stock engine as stage 1. A custom built engine with Twin Turbo system will be stage 2. As the car is still in the development stages performance figures are still unknown, but expect Lamborghini Twin Turbo rivaling performance.