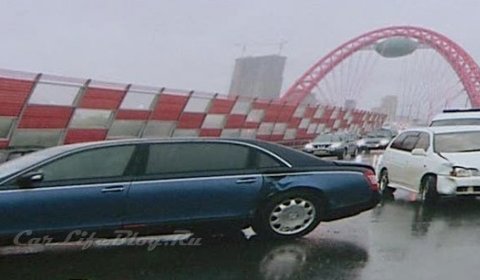 Car crash collisions are one of those things that happen daily around the world. They become special when luxury saloons like the Maybach are involved. A collision happened in Moscow which lead into a driver of a Toyota crashing a Maybach 62. The luxury vehicle was damaged up to 9,000,000 rubles ($ 290,000, € 212,000), which makes it the most expensive accident in Russia in 2010.
The Toyota driver lost control on a wet road and crashed into the back of the Maybach 62. The German luxury saloon suffered severe body damage estimated by the insurance company up to 9 million rubles.
Despite the existence of an insurance policy the Toyota driver has to pay more than 8.9 million rubles ($ 287,000, € 209,000) to the owner of the Maybach. With an average salary in Russia of up to 15,000 rubles ($ 484, € 353) that seems to be quite problematic. It will take him up to the end of his life to pay this debt.
[Via Carlifeblog.ru]