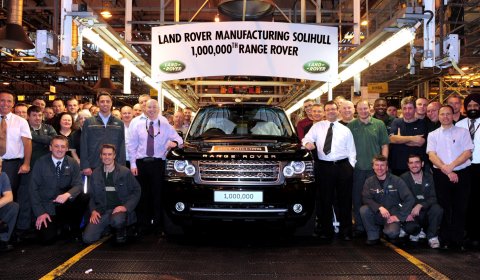 Land Rover is celebrating the production of its one millionth Range Rover by donating the vehicle to Help for Heroes, a charity that helps provide services for wounded British servicemen and women. The one millionth vehicle, a Range Rover Autobiography in ultimate black, has been built at the Solihull manufacturing plant, where three generations of the Range Rover have been built since June 1970.
Land Rover employees joined Alan Volkaerts, Solihull Manufacturing Director, and Phil Popham, Land Rover Managing Director, to celebrate the milestone event in Range Rover's 40th year. The one millionth Range Rover was driven by Phil Popham to London to deliver the car to Help for Heroes. He was followed from Solihull to London by a convoy of heritage Range Rovers, driven by their owners.
The handover took place on the Top Gear Live set at Earls Court in London where Jeremy Clarkson – who is a Help for Heroes patron – took delivery of the one millionth Range Rover on behalf of the charity.
There have been three generations of Range Rover. The original, now known as the Classic, went on sale in 1970 and continued in production, with numerous upgrades and a multiplicity of variants, for just over 25 years.
The second-generation vehicle, known as the P38a, went on sale in 1994 and was replaced in 2001 by the current model. During 2005, the Range Rover Sport was introduced, adding a more dynamic SUV to the Range Rover line-up. Next year a third model with join the Range Rover line-up, the all-new Range Rover Evoque.