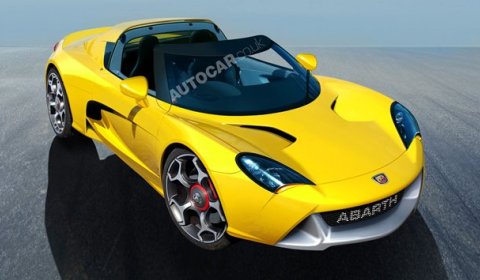 Following the rumours on a Fiat Abarth Roadster or Speedster, new information has been revealed by British car magazine Autocar. The new sports car is set to debut in 2012 and is the latest step in the revival of the brand. It is not based on the Lotus Elise chassis of the expensive platform from the KTM X-Bow.
The planned roadster's shape will be all-new. Its proportions and transverse, mid-engined layout will be roughly similar to that of the Lotus Elise. Its cockpit is also believed to use the same layout as the Elise: a fixed rear window with a simple, lift-out roof panel. The styling will come from Abarth's own in-house department.
The intended powertrain to be used is the turbocharged 1.4 liter MultiAir, which outputs as high as 170bhp, linked to a six-speed dual-clutch gearbox.
The entry price for the Abarth roadster is tipped to be at around £ 25,000 with a maximum worldwide sales of only 5000 units.