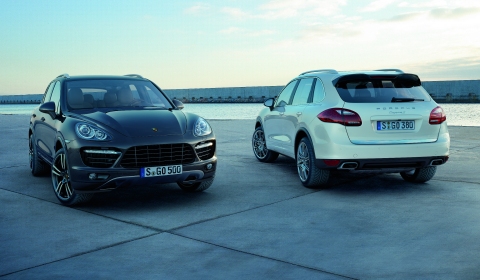 Next month Porsche begins selling its 2011 Cayenne S Hybrid through its 197 authorized US dealers.
The Cayenne S Hybrid accelerates from 0 to 60mph in just 6.1 seconds on its way to a top test track speed of 150mph. Like most hybrids the Cayenne S Hybrid can drive for a time on electric power alone at speeds up to 37mph. However, it delivers efficiencies at cruising speeds through its ability to 'sail' or coast with the combustion engine turned off. It can do this for up to one mile, and this not only saves fuel but also minimizes emissions.
Its base MSRP is $ 67,700 (excluding destination), and like all Cayenne models, it is not subject to a gas-guzzler tax.
The North American Cayenne lineup also includes the Cayenne, Cayenne S and Cayenne Turbo. They are powered by a 300-horsepower 3.6 liter V6 in the Cayenne, a 400-horsepower 4.8 liter V8 in the Cayenne S, and a 500-horsepower twin-turbocharged 4.8 liter V8 in the Cayenne Turbo. The Cayenne, Cayenne S and Cayenne Turbo SUV models are on sale now, and their base MSRPs (excluding destination charges) are as follows: Cayenne, $ 46,700; Cayenne S, $ 63,700; and Cayenne Turbo, $ 104,800.