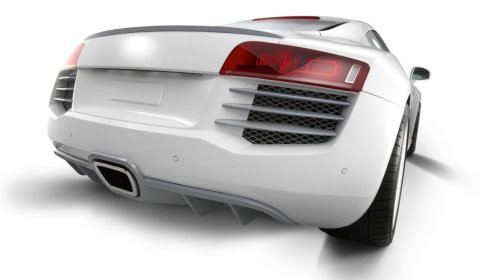 Eisenmann is known for its performance exhaust systems. For the first time the exhaust specialist has transformed an entire vehicle. Next to the exhaust they changed the carbon aerodynamic package, the alloy wheels and the chassis. This converts the Audi R8 into the Spark Eight by Eisenmann.
The new carbon outfit includes the spoiler with grille and fins (€ 7,800), the brake cooling chambers (€ 1,260), the front splitter (€ 1,800), the rear spoiler with grille (€ 4,800), and the rear diffuser (€ 3,800).
The Spark Eight by Eisenmann is fitted with a performance stainless steal system, with a single tailpipe exit in the center of the rear spoiler (€ 4,600). Thanks to the flap control system, sound and optimal performance can be controlled with the push of a button. As an alternative Eisenmann offers an exhaust system with four stainless steel tailpipes (€ 3,800) that can be combined with the standard rear spoiler. The retro-classic intake funnel (€ 1,200) and the two oval tailpipes (€ 1,000) provide the look of the R8.
New shock absorbers with four performance springs (€ 3,850) increase the driving dynamic for even more agile handling characteristics. The 235/35 (front) and 315/30 (rear) tires mounted on 8.5×19 inch alloy wheels ensure a solid grip. The complete set is available for € 7,300.
Components and the complete conversion package are exclusively available at Eisenmann.