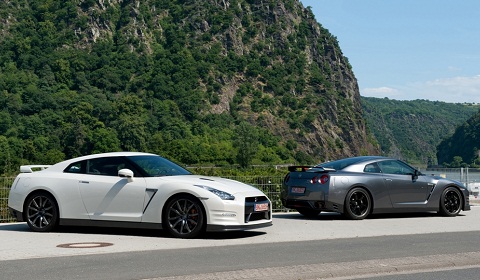 After months of speculation, Nissan have finally unveiled details of the planned facelift for the 2012 Nissan GT-R, together with the 2012 SpecV, the Club Track special edition and the 2012 Nissan GT-R facelift EGOIST.
The modifications made to the car are pretty extensive. Mechanically, Nissan have modified the boost pressure of the turbocharger, revised the valve timing and air mixture ratio and reduced air resistance on intake by enlarging the inlet pipe diameter. A reduced exhaust resistance has also been achieved through the use of an enlarged exhaust pipe section, benefitting both performance and fuel economy.
Performance increases to 530ps at 6,400rpm with maximum torque of 612Nm from 3,200 to 6,000rpm. A new engine cover has been applied to facelift models featuring a red plastic cover to differentiate it from older models. A number of economy measures have been placed on the car and "R mode" has apparently received significant improvements.
Additional supports, including a lightweight strut bar, have been installed to increase rigidity. Body panel gaps have been minimised further and a new G-sensor fitted to ensure these modifications are safe and optimal.
For the front suspension, the lever ratio of the springs has been adjusted and both shock absorbers and stabilizer bars are modified to improve the vertical load response of the tires. The front caster angle is increased from 5°35 to 6°00 to improve tire road holding ability when turning and stability while driving in a straight line. Modifications to the rear suspension include a changed central height to a lower position in order to improve tire grip while making turns and to better communicate driving feel. New aluminum free-piston shock absorber and a new rotor have been added to improve ride comfort and braking force.
Lighter weight and more rigid forged aluminum-alloy wheels have been designed for the facelift model. Made by Rays, the wheels feature the Hyper Blue Black Chrome colour and come wrapped in Dunlop SP Sport Maxx GT 600 DSST CTT tires.
Overall, downforce is increased by 10%. The front bumper is newly designed with double rectifier fins and 'Hyper Daylight' daytime running lights featuring high-intensity, white-color LED lights. The redesigned rear bumper features a lower center of gravity than the previous design, it also aids in underfloor cooling. A newly designed tailpipe finish with an enlarged diameter has been added too.
Six exterior colors are available, including two new colors: Meteo Flake Black Pearl and Aurora Flare Blue Pearl. Both are special option colours.
Inside, a newly shaped instrument panel pad and navigation system have been installed within a carbon central cluster. Changes to the steering wheel include a new velour-like coating on the logo and a magnesium base material for the paddle shift. A black smokey finish have been given to several interior trim pieces. Changes have also been made in the seat designs.
Spec-V Changes include a higher level of torque, 632Nm at 3,600 – 5,600rpm. The rear brake pad material has been changed and VDC (Vehicle Dynamic Control) balance under braking is modified. Finally, the wheels have been changed to those mentioned above.
The Club Track edition has been developed exclusively for racing circuit use, further details of which are available from Nissan.
The Egoist is essentially a special edition GT-R. It will be offered with a choice of 20 interior colours and a personalised Bose sound system. Interiors will be dealt with by Seton Company, Inc. from Muelheim an der Ruhr in Germany and leather master craftsmen sew and stick carefully selected leather by hand. A dry carbon rear spoiler and a titanium exhaust system will also be offered to Egoist customers. Essentially what we envisage is a more individualised Spec-V for a slightly reduced price.
Price guides place the GT-R Black edition at 9,303,000 yen (€ 82,500), the GT-R Premium edition at 9,450,000 yen (€ 83,800), the GT-R Spec V 15,750,000 yen (€ 140,000) and the GT-R EGOIST at 15,000,300 yen (€ 133,000).