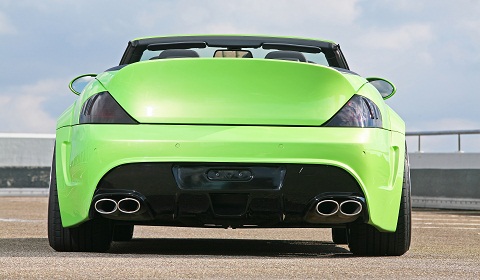 We've featured some of CLP's work before in our overkill section. This time they're back under the slightly different name 'CLP Automotive'. Their lime green BMW 6-Series, complete with scissor doors, is definitely worthy of the overkill tag. You'll be pleased to hear though, that you don't have to opt for either the doors or the colour scheme; so this is also a semi-serious article about a kit you might actually want to buy (taste dependant!).
Overall, the aerodynamic kit, named 'MR 600 GT', costs € 5,990. For this price you get a complete kit consisting of two front wings, two rear fender flares, left and right side skirts and a rear apron. The whole car gets a wider look as a result and an increase in downforce. The tailgate spoiler is available for an extra charge of € 399.
CLP have fitted the pictured car with exclusive three-part alloy wheels with stainless steel trim rings in sizes 9.5 x 22 inches and 11.5 x 22 inches. The set, including alloys and high performance tires, will cost € 8,960. To aid road holding, CLP offer a KW Variant three coil-over kit.
Finally, minor performance upgrades have been applied boosting the 645i base model to 379hp and 490Nm for a sum of € 1,290. For an additional € 1,599, a CLP muffler with four tailpipes machined from stainless steel is also available.
So what do you think?