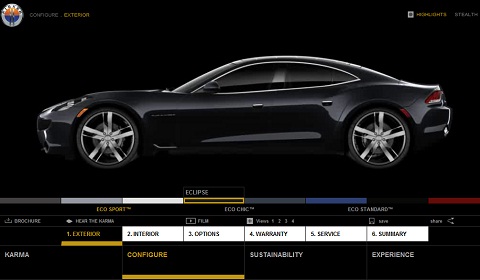 The Fisker Karma may have hit a number of development delays since it was first unveiled, however, Fisker have now released an online configurator for potential customers to get an idea of the options available when the car finally hits showrooms.
Exterior model options include the Eco Standard, Eco Chic, and the Eco Sport. If you opt for the base model you will get two color options, 'White Sand' and 'Eclipse', but if you go for the top of the line model you can get five more. The extra colours include, 'Shadow', 'Silver Wind', 'Deep Ocean', 'Laguna', 'Earth' and 'Inferno'.
Inside, 'Black Onyx Monotone' is the only colour option available for the Standard model. By the time we get to the Sport, three others are added, a 'Canyon Tritone' trim level, 'Dune Monotone' and our favourite, 'Monsoon Tritone'. All materials used in the Interior are sustainable or recycled.
There's a long list of options available too including regenerative braking, audio packages and heated rear seats. To check it out for yourself click this link.