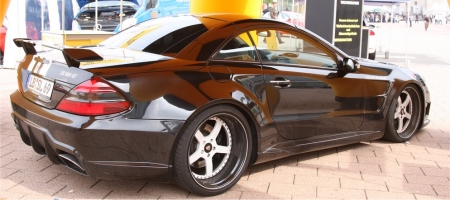 Introductions of several new sports car and supercars have attract our attention the past few days, but there were some other 'special' vehicles outside the exhibition halls. One of these was a Mercedes SL R230-based Carline CLP SR 650 GT.
The 5,52-litre V12 engine plus compressor produces 650PS or 478Kw and a maximum torque of 712Nm. The top speed is achieved at 330km/h. The tuned SL will catapult from 0 to 100km/h in 3,8 seconds.
But that's not all! Carline has also added a rather 'intriguing' bodykit and rear wing and lowering kit. Massive rims in a mixed white/black style can hardly be missed. Overall it's a 'bit' of overkill.