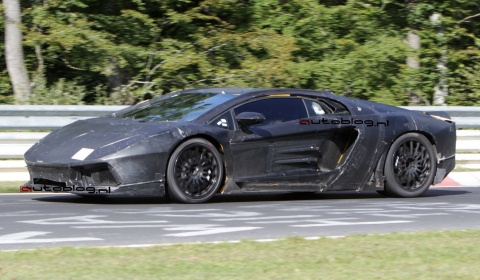 The 2012 Lamborghini Jota aka codename LB715-5 has been spotted ones again. This time during tests at the Nürburgring. The Murcielago replacement is destinded to be revealed at the Geneva Auto Salon in March 2011.
The video shown below gives a first look at some new features and the sound of the engine. Lamborghini-addicts should have a closer look at the rear end of the vehicle. You will spot two special flaps which are part of a wing covering the rear end automatically revealing itself at higher speeds. The wing is located just above the two rear lights. It is unknown if it acts like an airbrake.
Secondly, there are two air ducts located next to the engine hood, just above the two rear tyres. Inside the video you will see both systems opening and closing itself. The air ducts are located within the body work, not like the Murcielago just behind the side windows. It definitely improves the lines of the vehicle and it seems that Italians will stuck to the concept of the current Murcielago.
Rumours suggest a top speed of 360km/h (225mph), a four-wheel drive system and seven-speed double-clutch transmission. Jota's engine will be a +700bhp strong V12. The base price is expected to start at € 275,000.