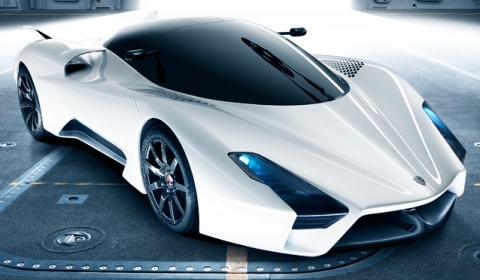 The guys over at TopGear.com have revealed new information and show new pictures of the SSC Ultimate Aero II. Continuing the fastest-car-in-the-world battle which is being played out before our own eyes, pricing and technical information is now available.
The Aero II is powered by a four-cam 6.8 liter twin-turbo engine which will rev to 9,000rpm and make 1,350bhp. Even the blowers are SSC's own design. It's already doing these numbers on Shelby's dyno. Unlike the current car, which has some steel in the structure, the new one will be all-carbon except for aluminium crash rails beyond the wheels front and back. Its transmission is the same all-SSC unit that has been proved in the current car, with the same triple-disc carbon clutch, but it will have the option of sequential paddle shifting.
Anything that can be re-used from his existing Ultimate Aero will be re-used. The whole bottom end of the engine for instance is the same. The suspension, the Brembo carbon brakes, the steering aren't changed. Nor the apertures for the dihedral doors.
An Australian company called Carbon Revolution has developed for SSC the world's first one-piece carbon-fibre wheel – the 19-incher at the front weighs only 5.8kg. The new car's entire structure will be made of F1-derived carbon. The dry weight will fall under 1,200kg. Putting the power-to-weight ratio, even with fluids and the quivering driver strapped aboard, is will exceed 1,000bhp per tonne. 0-60? SSC claims 2.8secs and max speed at 275mph.
It will cost $ 970,000, or £ 626,000 plus tax, when it goes on sale late next year. The first will be delivered in a year's time.