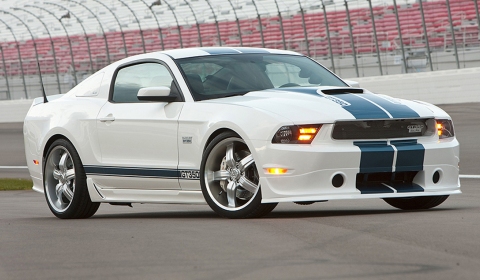 Shelby American has released the official performance specs of the supercharged and normally aspirated post title packages for the Shelby GT350, as well as a new higher horsepower option for the 5.0 liter powered car. With up to 624 horsepower on tap via an optional "R" tune, the 2011 Shelby GT350 is one of the most powerful limited production cars in the world.
In recent tests, the standard supercharged car hit 60 miles per hour in just 3.7 seconds and ran the quarter in 12 seconds flat at 121.4 mph, all while generating 1.05g of lateral acceleration and stopping from 60 mph in only 107 feet. Shelby believes the 'R' tuned GT350 will be even faster.
The normally aspirated GT350 is available in standard Ford Mustang GT trim for SCCA racing or 430 in the optional tune. The standard supercharged version is rated at 525 horsepower while the "R" tune option delivers 624 horsepower. All versions include Shelby performance suspension, brake, tire/wheel, and interior and exterior styling enhancements that make the GT350 as fast on the curves as it is in the straightaways.
In addition to the optional "R" tune for the supercharger, Shelby American will offer a solid blue painted hood stripes as well as finished rear bumper stripes. A Watts link rear suspension, upgraded stereo, track-oriented brakes and other options are also available on the Shelby.