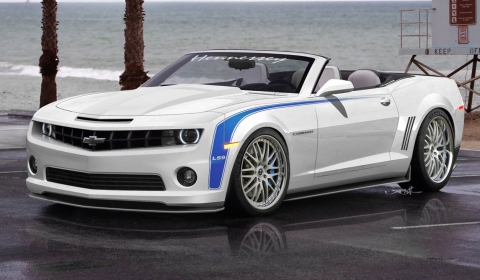 With the limited production run of Hennessey's 2010 HPE700 Camaro long since sold-out, the company has announced they will build another 24 units for the 2011 model year. This latest run of HPE700's will include the convertible model and an increase in power from its supercharged 6.2L LS9 V8, the same engine found in the Corvette ZR1.
The 2011 HPE700 gets 755bhp and 763lb-ft of torque. As the Camaro convertible arrives in showrooms in the spring of 2011, the six-speed manual SS model will become available alongside its hardtop brother. The HPE700 also includes an adjustable coilover suspension, larger sway bars, HPE lightweight wheels, larger 15-inch brakes with six-piston front calipers, stainless steel long tube headers, painted hockey stripe, Alcantara-wrapped steering wheel, CarbonAero carbon fiber body kit and more to complete the car's distinct look and performance characteristics.
The 2011 HPE700 LS9 Camaro will be limited to just 24 units, with no set allocation between coupe and convertible. Pricing for the complete HPE700 upgrade, including the base vehicle, is $ 132,500 and can be ordered directly through HPE or one of Hennessey's authorized Chevrolet dealers in the US.