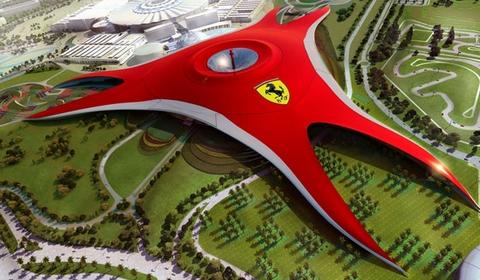 All Ferrari fans are looking forward ever since the first news concerning the Ferrari World got released. Today we can tell you that the Ferrari Theme Park in Abu Dhabi will officially be opened on October 27th around 7 pm.
Standard tickets cost 225 UAE Dirhams ($ 61 – € 45) for visitors over 1m50, and 165 AED ($ 45 – € 33) for kids. Premium tickets, which provide access to an exclusive lounge with refreshments as well as other unannounced benefits, cost 375 AED ($ 102 – € 75) for visitors over 1m50 and 270 AED ($ 74 – € 54) for younger Ferrari fans.
Important to know is that the October opening is meant as a soft launch with only the exterior features available to visitors. A full-blown grand opening will follow this December, when the full park will open up to the public.