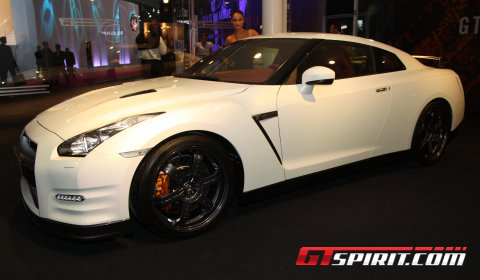 Nissan just showed us the facelifted version of the Nissan GT-R at the Paris Motor Show but the facelift is surrounded by secrecy. The official release is not for another two weeks and Nissan has been very scarce in supplying us details regarding the facelift.
We did manage to get some more information and views on the changes that go beyond what we published on the upcoming facelift two weeks ago. Apart from new LED driving / daytime running lights, improved aerodynamics, new wheels, two new colours and a carbon rear spoiler it has become clear that the facelift will not only serve the Japanese market from next year but also come to Europe and the US.
The aerodynamic improvements are a result of the modified front bumper, improved carbon spoiler and an updated rear diffuser that channel the wind flow better around the Nissan GT-R. Here are the first pictures of the facelift. Expect a full press release from Nissan in about two weeks.