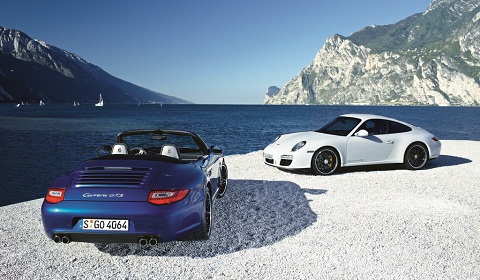 It seems the information we got back in June was completely correct! Porsche have just broken cover with their new Carrera GTS set to be unveiled officially at the 2010 Paris Motor Show. Essentially, the Carrera GTS is a wide-bodied version of the standard Carrera S as expected. It features an increase in power and the new aerodynamic kit to position it between the Carrera S and the GT3. The GTS is available in coupé and cabriolet variants.
The new bodykit comes from the Carrera 4. It is 44 millimeters wider and is fitted over the rear wheel drive GTS instead. There is also a SportDesign front apron with spoiler, painted in black, a special side skirts, also in black, and the Carrera GTS logo on doors and rear lid, in black or silver depending on the body colour.
The GTS' 3.8 liter engine gains 23hp over the 911 Carrera S bringing peak power to 408hp. To achieve this there is a new intake manifold with six vacuum-controlled tuning flaps which switch between power and torque-optimized geometry. Whilst torque remains at 420Nm, the intake manifold makes it arrive at 4,200rpm, 200rpm earlier compared with the Carrera S. The final performance modification to this car is a sports exhaust system with two dual tailpipes.
A six-speed manual transmission is standard for this car, a seven-speed Porsche Doppelkupplungsgetriebe (PDK) is available as an option for those who prefer and automatic. A top speed of 306km/h is now possible and 0-100km/h (62mph) takes just 4.2 seconds. Fuel consumption is 10.2litres/100km (27.69mpg imp) and CO2 emissions are 240g/km.
The GTS runs on 19 inch centre-mounted RS Spyder wheels, painted in black, with high-gloss finish rims and 305/30 ZR 19 tyres.
The standard interior colour is "black Alcantara", centre sections of the driver and passenger sport seats are covered in it. The new three-spoke SportDesign steering wheel and the gear and handbrake levers are covered in Alcantara too.
The price for German markets has been set at € 104,935 for the Coupé and € 115,050 for the Cabriolet.