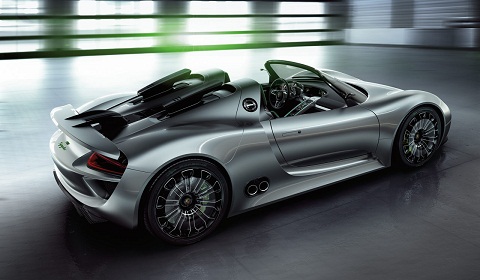 Rumours are filtering through from a source at Rennlist forums who reports that during a Porsche Sales Managers meeting, several planned models were discussed at depth. Amongst the plans are a new 911 Speedster, a 2011 Carrera GTS and a 2011 Cayman "Spyder". The reports indicate that Porsche management are close to reaching a decision on the 918 Spyder, to be seen before the end of next year if it gets the green light.
So, to start from the beginning; current indications are that we'll see the 911 Speedster before the end of the year. It will be a limited production car, much like the 911 Sports Classic, only 100 cars will make the dealer forecourts. Colours will be limited to white or blue initially but it seems that Porsche will also "colour to sample". The car will put out 408hp through the rear wheels indicating that it could be built on the 911 GT3 platform. The car will wear 19 inch rims. Potential US owners should expect to pay around $ 200,000 (£ 137,000 or € 166,000)
The second model, the Carrera GTS, looks set to break cover in Spring 2011, perhaps at the Geneva Motor Show. It will be a wide-bodied version of the 911, again, having 408hp from a rear-wheel drive layout. A few features will be its center lock wheels, a sport design nose and a sport exhaust. It seems that, unlike the Speedster, the GTS will be a 'mass market' car with the coupe priced at $ 103,100 (£ 70,600 or € 85,000) and the cabriolet increasing to $ 112,900 (£ 77,300 or € 93,700).
The last new car, arriving again in Spring 2011, will be a Cayman "Spyder" type car. Again, this will be lighter, have an increased horsepower figure and will include noticable Spyder design cues. Tuning will be around 330hp with prices starting at $ 65,300 (£ 44,700 or € 54,200).
The final piece of news to come from Rennlist is that the 918 Spyder has not yet been cleared for production. But, if and when it is, the development period will begin very quickly with Porsche dealers hoping to send potential customers to an official, but secret, unveiling at this years Pebble Beach. If the car makes it to dealership's the indication is that a $ 50,000 non-refundable deposit will see you get a build slot.
The final pieces of information indicate that the Cayenne V6 models will be made available by September or earlier and Cayenne Hybrid models will hit the market the following month. Sounds like interesting times at Porsche, we'll be keeping an ear out for any more information so stay tuned!
[Via TeamSpeed]