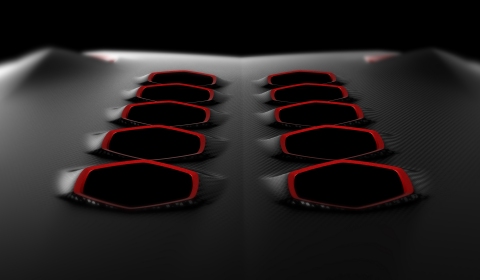 The Italian car manufacturer Lamborghini has revealed the second teaser of a new model to be revealed at the 2010 Paris Motor Show. It looks like the rendering is not covering the new 2011 Lamborghini Murciélago, but the future of Lambo supersports cars.
Stephan Winkelmann, President and CEO of Automobili Lamborghini SpA, stated the following regarding the design study:
Lamborghini stands for extreme and uncompromising supersportscars of the best Italian tradition. Tradition as a value however, lives at Lamborghini alongside innovation. We are redefining the future of our supersportscars around the two main reasons to buy: design and performance. Design has been and always will be reason number one, and we will make sure a Lamborghini will always be recognizable through its significant stylistic features. Regarding performance, until few years ago priorities were, in this order: top speed, acceleration and handling.
In recent years this has been changing. Together with design, handling and acceleration are becoming more important. Speed is not as important anymore, because all supersportscars are exceeding 300km/h (186mph) and this is a speed that you cannot reach even on a racetrack, let alone normal roads. We think it is time to make a shift and talk more about handling and acceleration.
The key factor in terms of better handling and acceleration, meaning more immediate pleasure in driving, is the power-to-weight ratio. This is not so much about top speed and so the future will not be so ocused on increasing the power, even because CO2 emissions do play a role for supersportscars too. That means the key is in reducing the weight. A crucial part of this is to understand how to reduce the weight. From the middle of the Eighties, the average weight of our cars has increased by 500kg because of active and passive safety, comfort and emissions reduction issues, and this is something that we have to change. Since we cannot reduce safety or comfort in our cars, we have to reduce the weight by using new materials.
The magic word for this is "carbon fiber". We started working with carbon fiber in Sant'Agata Bolognese over thirty years ago and today, with our two laboratories in Sant'Agata Bolognese and in Seattle. We are mastering a broad range of technologies which put us in a leadership position for low-volume production. Every new Lamborghini will make the best use of carbon fiber to reduce weight.