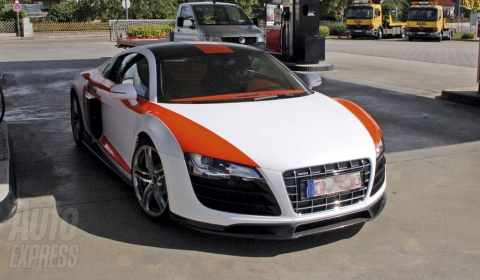 Some initial news regarding an ultimate Audi R8 V10 has emerged. The new version of the car is not coming from Audi, but from a German tuner. At GTspirit we know that an all-new twin-turbocharged V10 model is coming soon from tuning company MTM. The tuner is already working for months on the upgraded vehicle. We even saw the first steps of the 888bhp-strong Audi R8 V10 development last year.
According to Autoexpress, the car pictured here is the first driving prototype of the brand new vehicle. It has Audi motorsport-style stripes, an all-new ground-hugging front splitter, side skirts, plastic engine cover and huge side air intakes lifted directly from the R8 LMS racing car. At the rear the exhausts exit just below tail-lamp height in the centre of the rear bumper – leaving gaping holes where the standard pipes would be. This is an arrangement which comes straight from the race track. Huge brakes complete the exterior package.
Inside, the motorsport theme continues with a stripped-out cabin with a pair of Recaro racing seats.
So nothing new to us, just a recap for you.