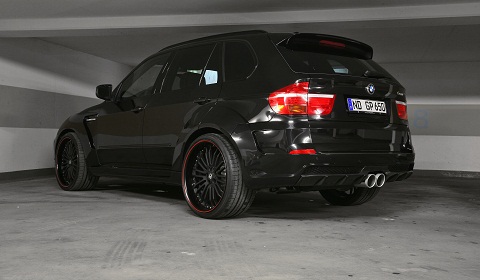 Here at GTSpirit we are huge fans of the Typhoon Black Pearl kit that G-Power presented last year for the X5. We are therefore delighted to reveal the wide body kit for the BMW X5 M, known simply as the X5 M Typhoon! Once again we are impressed with the looks of this beast! Power is once again very special and the Germans have done us a favour by doing very little to the OEM interior!
Taking the base 4.4 liter V8 bi-turbo, G-Power have extracted an extra 170hp increasing output to a staggering 725hp at 6,000rpm! Also on the taps is an extra 210Nm of torque taking the final figure up to 890Nm at 1,500rpm. 0-100km/h (62mph) happens in just 4.2 seconds with a de-limited top speed of over 300km/h (186mph).
The cost for the conversion is € 18,000. For this you get engine mapping including removal of the top speed limiter, a new stainless steel exhaust, sport catalytic converters, new exhaust manifolds and optimised connection pipes between the turbos and the cylinder heads.
The centerpiece of the program is undoubtedly the body kit though. It is been manufactured from PU RIM and features extensions to the wheel arches at the front and rear, a new front skirt with larger air intakes, side skirts housing five LED units and rear skirt with diffuser and twin tail pipes. G-Power have priced the aerodynamics package starting at € 12,185.
G-Power Silverstone RS forged wheels are fitted to this car in size 11Jx23 inch up front and 12Jx23 inch at the rear. Rubber comes in the form of Michelin high-performance tyres measuring 315/25 ZR 23. Pricing for this is € 8,865.55.