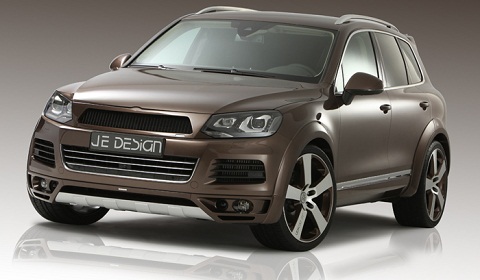 JE Design became the first company to tune to new Volkswagen Touareg recently when they unveiled their 7P Widebody kit. The kit includes body modifications, suspension adjustments, cosmetic and performance enhancements giving the German SUV a completely different look!
JE Design have equipped the Touareg with a new sports radiator grill, front spoiler, front and back wheel arch kit, rear apron insert, roof spoiler and rear hatch. It is all machined from Polyurethane and includes a new headlight set. The whole package costs just € 4998.
Stainless steel dual exhaust pipes are offered for € 595. They contribute to the engine note as well as its performance figures. For € 2999 JE Design offer a performance package unleashing 410PS and 930Nm of torque from the 4.2 liter TDI-engine. This offers enough of an increase to boost performance figures for the 0-100km/h (62mph) sprint to 5.4 seconds and top speed to 269km/h. The price includes a one-year warranty on the engine, the turbo charger, the transmission and the powertrain which can be extended by a year for just € 199.
A pneumatic electronic suspension lowering module pushes the car 35mm lower to the ground for a price of € 1428. A complete wheel set is offered for € 5190 include 30 and 40mm spacers and aluminium wheels in a variety of colours.
For € 19,750 JE Design offer the full kit including assembly, paint and TÜV-registration.