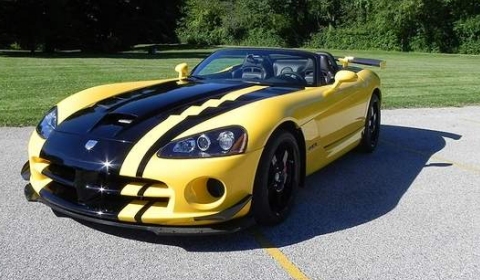 Following the endless line-up of special and limited editions of the Dodge Viper, a new model has popped up: the SRT10 Convertible ACR built specifically for Woodhouse Dodge in Blair, Nebraska USA. The dealership situated in a small town with approximately 7,500 people has sold more Vipers than any other dealer. They even modify roughly 75% of the Vipers the dealer sells.
The special edition does not only include an exclusive paint job and badges. Woodhouse suggested a combination between all of the go-fast parts from the ACR with a convertible body. Dodge agreed and they created the vehicle.
The SRT engineering staff had to incorporate some changes. Parts such as the adjustable KW suspension, Stoptech rotors, lighter wheels, short shifter and new fifth and sixth gears were easy, but the aerodynamic improvements required attention. With the aero differences between the coupe and convertible, a new, lower wing and light revisions to the front splitter had to be developed and undergo many hours of wind-tunnel testing.
Limited to only twenty the Viper SRT10 Convertible ACR Woodhouse limited edition is one of the most special Vipers on the road saying goodbye after the production of the all American sports car ended.
[Via Autoweek.com]