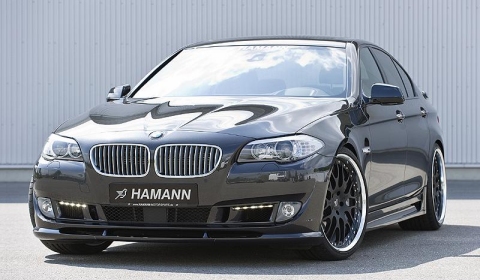 Hamann has revealed their program for the 2011 BMW 5 Series F10 program after we had a first look at the vehicle during our visit at Hamann headquarters in Laupheim a few weeks ago.
The body kit includes a front spoiler assembled on the OEM front bumper unit, side skirts, rear center panel with cut out for the four tailpipe rear muffler, rear spoiler, roof spoiler and bumper moldings with LED daytime running lights assembled on the OEM front bumper unit including two LED-daytime running lights. Additionally, several 20 inch wheel sets are available.
Hamann also offers a suspension kit lowering the car approximately 35mm. The exhaust system includes a high performance catalysts, center muffler and rear muffler with four round stainless-steel tail pipes measuring 90mm in diameter. The exhaust system is only available for the 550i model.
Interior refinements are also available. A carbon fiber interior set includes a decorative strip two pieced for the dashboard, inside door handle covers front & rear, decorative strip three pieced for the center console and a steering wheel cover. Aluminum pedals and branded Hamann floor mats are also available.
Stay tuned for more on this particular package. Hamann will release more information regarding the program at the end of this week.