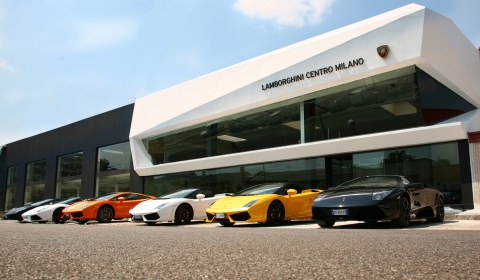 Automobili Lamborghini has opened its newest dealership, Lamborghini Centro Milano. The showroom's owners, the Conforti family (Touring Auto), already own Lamborghini Padova and have been selected as commercial partner of choice in the important Milanese area.
Lamborghini Centro Milano features futuristic exteriors, designed by Dante O. Benini & Partners Architects. The dealership's fascia is inspired by the Lamborghini Gallardo's front air intake.
The number of Lamborghini outlets in Italy grows to nine, including the latest showroom: apart from Milan, there is one in Bergamo, Padova, Bologna, Florence, Rome, Bari and Pescara. Lamborghini has 124 dealerships altogether in 45 countries worldwide.