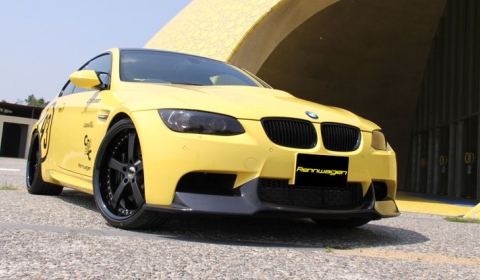 The latest in a long line-up of BMW E92 M3 tuning is Japanese company Craftsman unveiling their Rennwagen kit.
The kit includes a wide variety of changes and refinements, such as the carbon fiber front lip and tinted rear taillights and headlights. At the rear you will spot a carbon fiber add-on rear diffuser complete with fins on the outside of each exhaust. Also notice the triangular LED fog light between the exhaust pipes.
The Japanese outfitted the vehicle with the Akrapovic EVO exhaust system adding 20hp extra to the performance of the sports car. The wheel set consists of blacked out 20 inch Work Equip E05 wheels wrapped with Advan Sports rubber.
Inside the M3 factory seats were replaced by a set of Recaro SR-6 seats and the interior got a proper suede leather and carbon fiber treatment.
[Via Jonsibal]