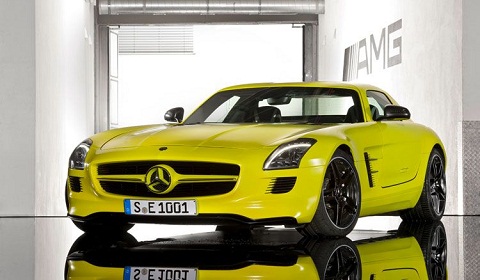 Images of the Mercedes SLS AMG E-Cell have been leaked ahead of its official unveiling. The photos show the car wearing 'AMG lumilectric magno' paint work giving it a distinct look, quite apart from the colours that the rest of the SLS AMG was originally shown in. Mercedes have promised that this will be the worlds first all-electric supercar when it goes on sale in 2013.
The SLS AMG E-Cell will be powered by four electric motors situated at each wheel. Power will be equivalent to 519 instantaneous horsepower and 649lb-ft of torque allowing the E-Cell to glide effortlessly to 100km/h (62mph) in just under four seconds. The lithium polymer batteries will be located behind the cockpit and down the center tunnel.
Other modifications to design include a new rear diffuser to produce more downforce, a multi-link front suspension with push-rod dampers is also now necessary at the front due to the extra space taken up by the front electric motors.
Enjoy the pictures and the videos, we will let you know when something official is released!
[Via Autocar]