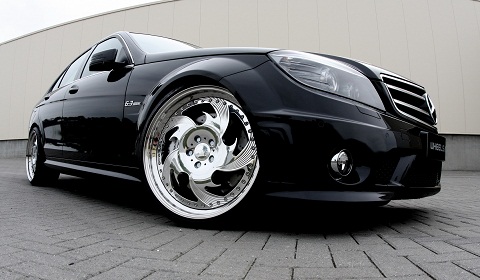 Today, Wheelsandmore unveiled details of their tuning packages for the 63 AMG Mercedes. The packages can be fitted to the C-Class and SL-Class models. The modifications are not limited to performance though, there are wheels and suspension upgrades to be had too.
To start with performance, the modifications applied to both cars allow the C63 AMG power boosts from 457bhp up to 570hp and 690lb-ft of torque. Similarly, the SL63 AMG engine gains from 525bhp up to 600hp with 710Nm of torque 525lb-ft of torque. The gains are staggered across each range with up to three different stages available for each car. The C63 AMG includes a modest 510bhp package priced at € 2,000, a 555bhp package priced at € 6,498 and a Stage III package with the full 570bhp costing € 9,998. The SL63 is offered with a 565bhp Stage I kit priced at € 2,000 and a 600bhp Stage II kit for € 12,000.
The power increases come from a combination of software updates for the lower stages and more extensive upgrades further up the scale. A complete stainless steel exhaust system is offered for both cars with 4-in-1 manifolds, catalytic replacement tubes and rear sport mufflers with valve flaps, controlled with a remote control.
A range of alloys are offered from the Wheelsandmore collection. The C-Class models in the pictures feature the Wheelsandmore "6Sporz" and "TS-1" ultralight models sized 20 inches. They wear 235/30/20 Dunlop Sport Maxx GT tyres and 275/25/20 rubbers on the rear.
The C-Class also features an adjustable coilover suspension kit and the SL, the Wheelsandmore electronic lowering module "LowMaXX".
For more information feel free to contact us or Wheelsandmore through their website.