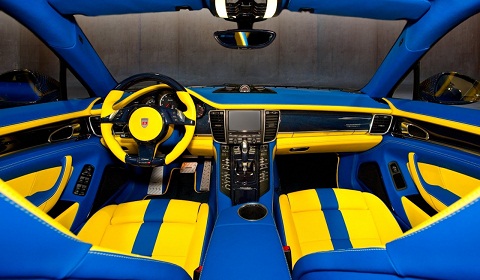 Ok, so perhaps we should have attached the overkill tag! This is the second Panamera from the Swiss branch of Mansory and it definitely divides opinions! Mansory have finished the car in Blue and Yellow this time round, keeping plenty of exposed carbon fiber.
Underneath there is still the same 4.8 liter Mansory tuned engine producing 690bhp and 850Nm of torque at 4800rpm. 0 to 100km/h (62mph) is reached in only four seconds and a top speed of 328km/h (204mph) is now possible. The extra power is made possible by amendments to the engine management system, larger turbo chargers and a stainless steel sports exhaust system.
The car is fitted with 22-inch alloys, 9 inches wide and wrapped with Dunlop rubber in sizes 265/30ZR22. The rear wheels sit a little wider at 10 inches and have 295/25ZR22 rubber.
Nothing much remains of the old interior. Mansory have stripped and re-upholstered the Panamera completely with a contrasting blue and yellow leather interior. Of course, if you were to choose a Mansory Panamera kit, it could be catered to more moderate tastes. We are hearing rumours that a Panamera kit would set you back around £ 200,000!! (€ 242,000)
[Via Autoblog.nl]