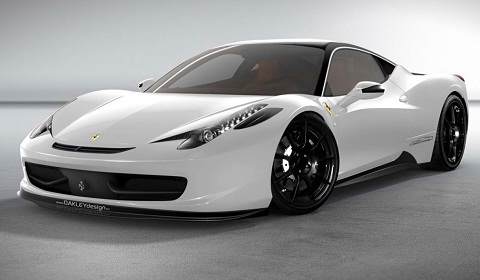 It is a brave (or foolish) company that takes to modifying a Ferrari. Oakley Design has recently raised a few propositions including these renderings detailing what they intend their final take on the 458 Italia to be. Mild updates to performance and styling characterize these new updates. Don't think that you will see many of them around though. The manufacturer has announced its intention to limit the kit to just five editions.
As far as Performance goes, a modest ECU tweak brings peak power up to 618bhp and 567Nm of torque compared to the standard cars 560bhp and 540Nm. As always with Oakley, the kit isn't focused on getting ever-higher power figures. Aerodynamic upgrades create much of the useable benefits of this car.
For example, the new carbon-fiber front spoiler lip adds an extra of 45kg of downforce on the front axle at 240km/h (150mph), useful for owners who intend on using their car at the track. The aerodynamics pack includes carbon fiber air vents, side skirts, a new rear diffuser and a rear spoiler with Gurney flap that adds a further 25kg of downforce at 150mph. Other carbon fiber parts will include the rook panel as well as the side mirrors.
A custom titanium exhaust system with no bypass valve sheds 30kg. The wheels are 20 inch OZ Racing wheels with 245/35ZR20 and 305/35ZR20 Pirelli Trofeo tires. Overall, the Oakley Design Ferrari 458 Italia is 65kg lighter and has a top speed of 330km/h (205mph). 0 to 100 km/h (62mph) acceleration is three seconds dead.