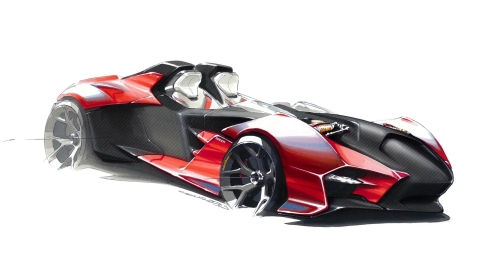 What if Ducati – manufacturer of motorbikes – would plan the release of a lightweight sports car powered by a V8 based on two Ducati Desmosedici RR engines? Afterall, KTM has the X-Bow!
According to Ducati News Today, a young designer named Anthony Collard imagined the hardcore two-seater in a recent automotive design competition.
Anthony stated:
The car has a mixed tubular/carbon body structure, covered by carbon panels and painted fairings. It has Ohlins suspension on the four wheels. The engine is a in central front position (just behind the front wheel axis, like for example on a SLR McLaren), and it is a V8 made of two L4 Desmosedici engines. So it develops about 420hp for a car weighting 420-450kg, thanks to all the carbon elements. The wheels are, as on any Italian bike, Marchesinis.
The car is a spyder which can be converted into a coupé thanks to a removable polycarbonate roof. The bucket seats are integrated into the bodywork and it uses a motorbike sequential gearbox.
Go or No go?