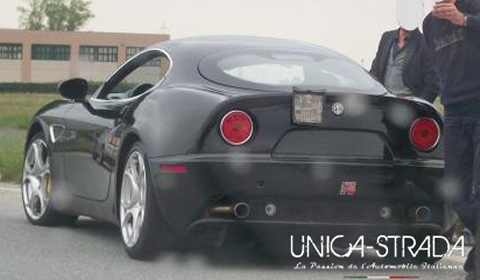 The Italians are planning a new member of the 8C Competizione GTA (Gran Turismo Allegerito) just in time to celebrate their centennial anniversary.
Alfa Romeo will improve the performance of the vehicle by adding 50 additional horsepower and saving 150kg of weight. The total weight will be 1,450kg. Under the hood you will still find the 4.7 liter V8 engine producing up to 500hp. Next to the engine, the gearbox will get some minor improvements, the suspension will be revised and the exterior and interior will be refined with some carbon fiber elements.
The 8C GTA will be unveiled this year and is limited to only 100 units.
Please stay tuned for more details on the third member of the 8C line-up.
[Via Unica-strada]