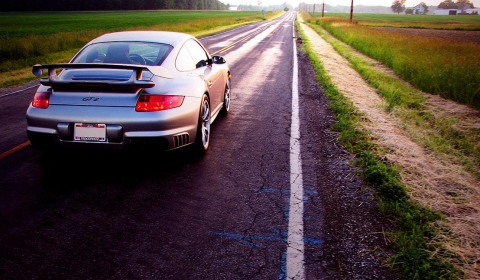 Perhaps the Porsche 2011 GT2 RS is the fastest roadgoing car in the company's history, but Tym Switzer's company, Switzer Performance, announced their new Switzer GT2 R911S – a super-997 GT2 with over 900hp and racetrack-oriented changes ensuring that the brand new GT2 RS will disappear in its rearview mirrors. So for those people missed out on the limited 500 units, Switzer is their next stop.
The Switzer GT2 R911S has the P800 GT2 package and pushes it further. Using race fuel and Switzer's intercoolers, the R911 delivers well over eight hundred horsepower at the rear wheels, equating to roughly 50% more power than Porsche's GT2 RS.
Switzer's R911S features a Switzer-specific titanium inverted-front-strut, remote-reservoir suspension engineered by the track experts at JRZ. Each one of Switzer's R911S cars will be feature hand-selected spring and damping rates, specifically catering to each client's track experience and level of aggression.
Switzer offers the R911S Carbon – a suite of lightweight carbon-fiber body panels that sheds weight from the R911S and lowers the car's center of gravity for maximum performance in advanced-level trackday and time-attack sessions.
Switzer Performance can offer the silver GT2 R911S pictured here for immediate delivery. Pricing for the standard vehicle starts at $ 199,900, while the R911S Carbon is priced at $ 239,900, contact Switzer Performance for more information.