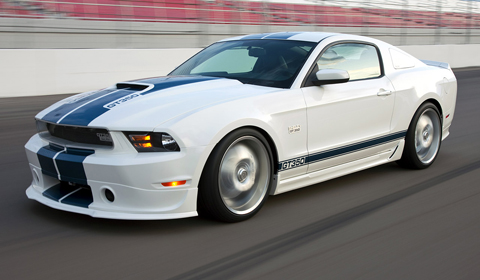 Shelby Amerian has created a package which upfits the 2011 Ford Mustang GT to create the GT350 Mustang. The package follows the GT350 program introduced in January. However, SCCA rules do not allow post-title modifications such as a supercharger. So now a version without the upgrade is available, making it also possible for the GT350 to be equipped with the factory six-speed automatic.
Shelby American worked with Ford Racing, Borla, Goodyear and Baer to develop the upgrade packages. A total of three are available. A naturally aspirated version for SCCA racers will use the 412hp version of the 5.0-liter V8 from the factory and the six-speed manual transmission. A naturally aspirated version for street use is tuned beyond the 412hp. The car will be available with either a six-speed manual or six-speed automatic. Finally, the supercharged GT350, creating about 500hp and linked to a six-speed manual.
The interior and exterior are likewise. All of the GT350s are white with blue Le Mans stripes.
Prices? In addition to the cost of a Ford Mustang GT, a naturally aspirated GT350 Mustang sets you back $ 26,995. Interested in the supercharged version, that is $ 33,995 leaving your wallet.
[Via Autoweek.com]