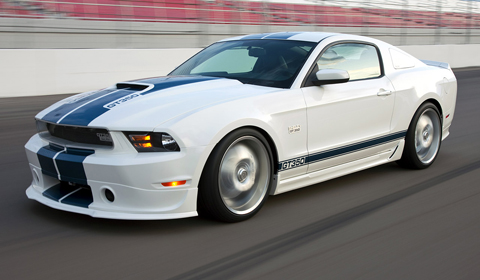 Shelby chose the Barrett-Jackson Collector car auction to debut their new 2011 Shelby GT350 Mustang Based on the new, V8 2011 Mustang. Marking the 45th anniversary of the original 1965 Shelby GT350.
The focus for the project is on creating a car that's light, fast and has razor sharp handling, if ever such a thing could be achieved for a Mustang. To achieve this, Shelby worked with Ford Racing, Goodyear, Borla, Cragar and Baer.
Most body panels have been changed including new front and rear bumpers. A new front splitter and rear spoiler also aid in creating a completely new image for the hot-rod mustang.
Power is up too 500bhp, thanks to a Ford Racing sourced supercharger. On top of this, Shelby have included a traditional 6 speed manual transmission and a not quite so traditional central exit exhaust. To finish off the modifications to the engine bay, Shelby have added 'Blue Shelby GT350′ valve covers and billet caps.
Brakes come from Baer and feature a 6 piston kit for the front, with 14