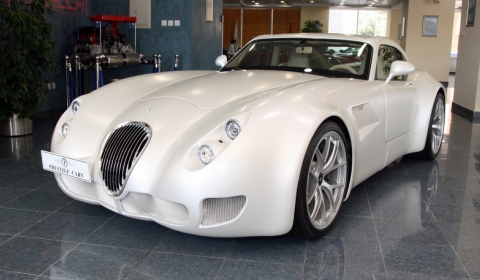 Prestige Cars, Dubai is known for its sales of special vehicles in the Gulf region. The dealership for tuned and exotic cars has a Wiesmann GT MF 5 for sale in its Dubai showroom.
The aluminium-monocoque has been combined with a white body made of glass fibre reinforced composite material and includes a diffuser, rear wing, enlarged air intakes, laminated windscreen, side and rear windows made of safety glass.
Under the hood you will find a V10 engine with three-way catalytic converter, petrol injection, stainless steel twin exhaust pipes borrowed from the previous BMW M5 series. The engine produces 507hp (373kW) and a maximum torque of 520Nm at 6,100rpm. The engine is connected to a seven-speed sequential manual gearbox (SMG).
The weight of the vehicle is around 1395kg. Top speed is 311km/h and acceleration of 0-100km/h (62mph) is performed in 3.9 seconds.
The vehicle has integrated side impact protection, ABS, DSC, Height and reach-adjustable safety steering column, BMW security system including recognised electronic immobiliser (EWS lll), Three-point seat belts, Hydraulic power steering, and dual stage driver and passenger airbag.
Interested? For more information contact us via the contact link in the main menu or contact Prestige cars.