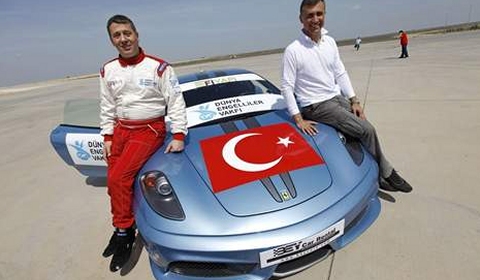 Turkish pop-singer Metin Senturk has become the world's fastest unaccompanied blind driver on Friday. At Urfa airport in eastern Turkey he drove a Ferrari 430 with an average speed of 292.89km/h (182mph) and broke the previous record of 284km/h, held by a British bank manager.
Guinness World Records officials told him he broke the record. Senturk, who has been blind since the age of three, reaction was:
I don't think there are any words to describe this feeling. I am really happy. It was really hard, like a dance with death.
Senturk had a driving coach, former rally driver Volkan Isik, who relayed instructions to Senturk via the radio.