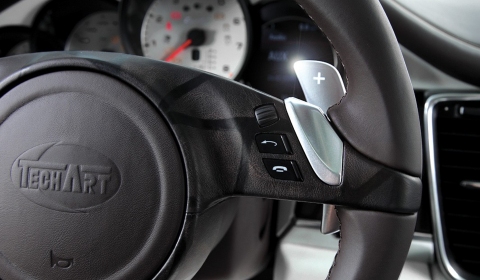 Many enthusiasts – including us – were frustrated by the steering-wheel-mounted shift paddles on Porsche's PDK-equipped vehicles. The buttons on the steering wheel were non-ergonomical and asked for another setup. Porsche started offering a remedy on their current Porsche 997 Turbo Facelift and the Boxster Spyder, but these are the only vehicles with this option!
TechArt is finally fulfilling a need of many customers. Starting from May onwards owners can upgrade their Porsche sport steering wheel or multifunction steering wheel featuring the standard PDK gearshift switchers. The paddle shifters were fist shown as a world premiere in the design study Concept One at the Geneva Motor Show.
The ergonomically mounted paddles allow the driver to shift up with a pull of the right paddle and to shift down with a pull of the left paddle. The retrofit package is available for all Porsche sport steering wheels and multifunction steering wheels with PDK gearshift switches as well as all TechArt sport steering wheels. The price is only € 490 ($ 650) including taxes. A bargain if you ask me!