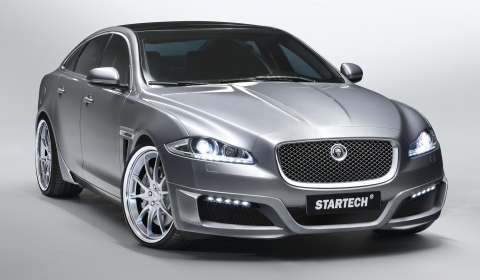 Startech has previewed its program for the new Jaguar XJ. The product lineup includes an aerodynamic-enhancement kit, custom-tailored 21-inch forged wheels with corresponding ride-height lowering, and interior customization options.
The front of the four-door car received a front element that attaches to the production bumper with larger air ducts. LED daytime running lights are integrated as well. The front fenders are replaced by quarter panels with integrated air outlets. They are complemented by new rocker panel trim that attaches in front of the rear wheel arches. The new rear apron features an integrated diffuser and two integrated exhaust tips that are combined with the production exhaust system. A rear spoiler lip on the trunk lid is the final part in the body kit.
Special versions of the Startech Monostar J Diamond edition wheels were developed for the luxury vehicle. The three-piece forged wheels are mounted in size 9.5Jx21 in front and in size 11Jx21 on the rear axle. The wheels feature mirror-polished surfaces interspersed with brushed-look sections. The German tuner also offers a matching ride-height lowering of the XJ's adaptive suspension by some 30mm.
The interior can be refined witih a multitude of leather and Alcantara colors. There is even the choice for maritime ambiance with the use of soft and breathable riverboat-design leather. A new type of wood trim resemble a miniature yacht veneer. Depending on customer preferences the wood trim can feature blond ash wood with dark brown separating layers or brown mahogany with blond separators. Customers can also choose from high-gloss polished smooth and open-pore matte surface finishes.
In addition, you can get accessories like high-gloss-polished stainless-steel scuff plates with illuminated Startech logo and floor mats with color-coordinated leather borders.
Up to this moment it is unknown when the package will be available and at what cost. So stay tuned for the release data and available prices.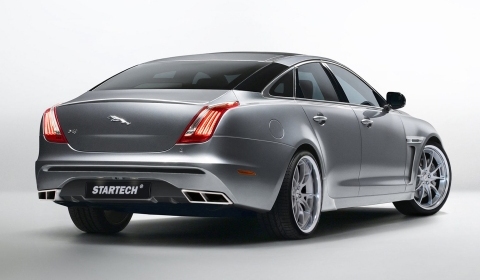 [Via Autoblog.nl]