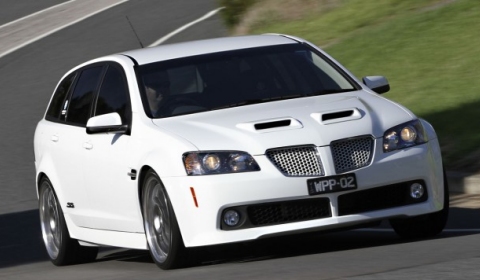 Some of you will be maybe familiar with the Pontiac G8 GXP, a performance sedan built by GM. In Australia the Holden version still exists. Walkinshaw Performance developed a 603hp Holden SS-V Special Edition Sportwagon.
The tuning company installed a new exhaust system, WP 190 supercharger, a new water-to-air intercooler and larger injectors. The new package creates an impressive 610hp (450kW) and 770Nm (568lb-ft) of torque. As a result, the sprint from 0 to 100km/h (62mph) will be made in under five seconds.
The Aussie car also gets new springs and dampers, 20 inch wheels, Walkinshaw-branded floormats and headrests and a Rockford-Fosgate premium audio system.
The price for the full package is $ 43,990 Australian Dollars on top of the purchase cost of an SS-V Sportwagon base vehicle. Walkinshaw incorporates a full driveline warranty into the cost of its parts, which matches the remaining time left on the donor vehicle's new car warranty.