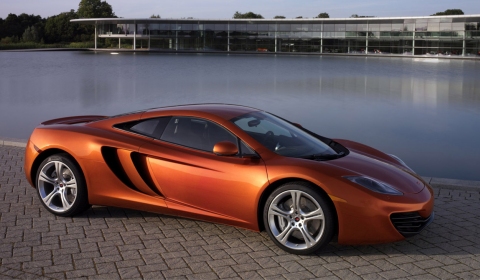 After the initial release a few months ago, McLaren Automotive has unveiled the full details of the MP4-12C, the first brand new supercar of the British car maker. The release included a first drive by Formula 1 drivers Jenson Button and Lewis Hamilton.
The two seater uses a 3.8 liter twin turbo engine producing 595bhp (441kW) at 7,000rpm and 599Nm (442lb-ft) from 3,000rpm. 479Nm (353lb-ft) is already available from 2,000rpm. Unfortunately, the top speed and sprint times have not been unveiled yet. The M838T is a low weight alternative to the larger capacity engines that power other cars in the 12C's market segment.
The engine is coupled to a seven-speed double clutch gearbox with Formula 1-inspired rockers mounted on the steering wheel. The setup offers Normal, Sport and Track driving modes. Two additional configurations are P and H. P changes the throttle response, gearshift times and engine sound. H stands for handling and changes the steering weight, suspension stifness and stability control settings.
The total car weighs only 1,300kg (2,866lbs). McLaren created a low weight distrubition by using a carbon composite monocoque. They are the first company to bring carbon chassis technology to the 'core' market sector of performance sports cars priced between £ 125,000 and £ 175,000. The MP4-12C weight is balanced in a 43:57 ratio, front to back.
Up to 1,000 12Cs will be delivered in 2011. Customers in Europe are first in line in the Spring of 2011, followed by a phased distribution to retailers in the Middle-East and South Africa, North America and Asia-Pacific. McLaren has stated to sell a range of around 4,000 high-performance sports cars by the middle of the decade. This is up to three to four percent of the global market for premium sports cars.
Additionally, Ron Dennis, McLaren's CEO, declared that the company is planning on building a new sports car that will compete with models like the Porsche 911 and the possibility of releasing a successor to the F1 supercar.
If the MP4-12C becomes a succes, McLaren will also produce new versions of the sports car, most probably a convertible and a more powerful version. Other models like SUVs or hybrid cars will probably be not included in the company's line-up anytime soon. Dennis stated that McLaren will not easily change their philosophy.