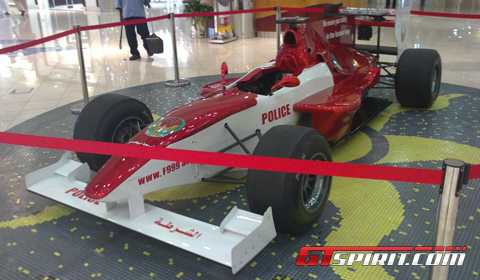 The Abu Dhabi Police unit is known for its high profile vehicles like the Nissan GT-R and Chevrolet Camaro SS. However, the UAE patrol fleet has been extended with two rather intriguing new vehicles – one for the road and one for the track. Abu Dhabi got a special designed F1 racer and Al Ain got a Fiat 500 to fight crime.
The Al Ain region will now be trembling in fear when they see the Fiat in their rear view mirror. On the other hand it looks like Hamilton, Schumacher and friends have to watch out next time they speed in the pits of the Yas Marina F1 circuit. The Abu Dhabi Police force is watching them from the cockpit of the F1 race car, equipped with sirene and lights.
We spotted the F1 racer in AD Police livery in the Marina Mall in Abu Dhabi. The Fiat 500 was introduced at the beginning of this week in Al Ain.
[Via Car Middle East]