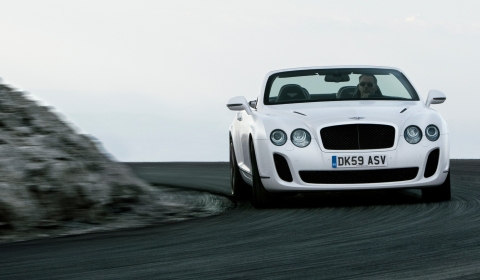 The Continental Supersports Convertible has been made official by Bentley following the introduction of the Continental Supersports Coupé in 2009. The new Supersports Convertible has the same 621bhp (463kW) twin-turbocharged W12 engine and is the fastest roofless Bentley ever built.
The new four-seater is a true Bentley in its design and craftsmanship. Within the interior you will find all the Bentley luxury such as satin-finished carbon fibre, Alcantara and 'Soft Grip' leather.
All models in the Continental model range, including the new Supersports Convertible are now capable of running on both petrol (gasoline) and E85 bioethanol or any combination of the two. To ensure seamless power delivery, the on-board fuel supply system detects the blending ratio of the fuel in the tank and ensures that power and torque remain constant regardless of the ratio of petrol to biofuel.
Hereby some figures of the fastest drop-top Bentley ever:
6-litre W12 engine twin-turbocharged engine produces 621bhp (463kW) at 6000 rev/min and 800Nm (590lb-ft) of torque at 2000-4500 rev/min
0 – 60mph in 3.9 seconds (0-100km/h in 4.2 seconds)
0 -100mph in 9.6 seconds (0-160km/h in 9.5 seconds)
Top speed of 202mph (325km/h)
Overall weight saving of 90kg (198lb) versus GTC Speed
The vehicle comes standard with a revised ZF 6HP26 transmission with 'Quickshift' system that cuts shift times by 50% and enables double downshifts and a new 40/60 rear-biased torque split for the all-wheel drive system. Bentley engineers increased the rear track by 50mm improving grip and stability. Lightweight, 20-inch, 10-spoke alloy wheels offer 10kg (22lb) weight saving per car. Each wheel is fitted with 275/35 ZR20 Pirelli ultra high performance tires.
As an extra Bentley introduced that the full 2011 Continental range will get new exterior and interior specification changes, such as six new colours added to the Bentley palette (Citric, White Satin, Kingfisher, Magenta, Orange Flame and St James Red Pearl), but also a Dark Grey Metallic Hood that is available on all Continental convertible including the new Supersports Convertible. Automatic opening and closing Powerboot is included as standard on the new Continental Flying Spur and GTC models (not Supersports versions).
A new cost option Premium Pack for the Flying Spur includes veneered picnic tables with vanity mirrors, a Mulliner alloy fuel filler cap and chrome inlay strips to the door waistrails. Convenience Packs are available for all Continental models and include features such as Adaptive Cruise Control with 'Follow to Stop' feature, an iPod interface, front seat massage function, telephone handsets, rear-view camera and valet key.