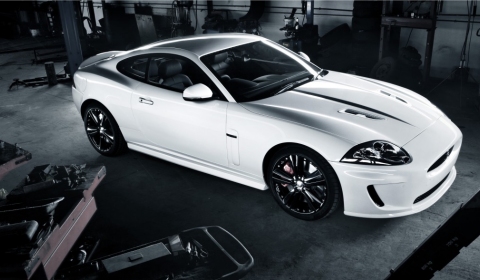 Jaguar has revealed two new styling packages for the 2011 Jaguar XKR. The Speed Pack and the Black Pack are accompanied by a optional performance package. The new versions are powered by the same 5.0 liter V8 engine and will be officially unveiled during the 2010 Geneva Motor Show.
The 2011 Jaguar XKR Coupe shown at the event will have both the optional Speed and Black pack to create a bold new model, which also sports optional Piano Black veneers on the dashboard and red brake callipers.
The new optional Speed Pack extends the car's top speed from 155mph (250km/h) to an electronically limited 174mph (280km/h) thanks to engine and transmission recalibration. To ensure the 2011 Jaguar XKR with Speed Pack remains stable at high speeds, the coupe uses a revised front aerodynamic splitter and larger rear spoiler to provide increased balance and a reduction in lift. The XKR's computerised Active Differential Control also adjusts to reduce steering sensitivity at very high speeds, further improving stability and driver control.
Every 2011 Jaguar XKR with the Speed Pack will come with body-coloured side sills and rear diffuser, and a chrome finish to the window surrounds, upper and lower mesh grilles, side Power Vents and boot lid finisher. Red brake callipers with a Jaguar 'R' logo sit inside 20-inch Kasuga alloy wheels.
Customers who order the 2011 Jaguar XKR Coupe with the Speed Pack will be offered a paint palette that is part of the Jaguar Designers' Choice programme. Seven colours are available on Speed Pack models – Ultimate Black, Polaris White, Salsa Red, Liquid Silver, Lunar Grey, Kyanite Blue and Spectrum Blue.
An addition to the Speed Pack is the new optional Black Pack including gloss black wheels and exterior detailing. Available only with the Speed Pack, 2011 Jaguar XKRs fitted with the Black Pack have a paint palette selected from a range of colours. The Black Pack models will be available in Ultimate Black, Polaris White or Salsa Red and have 20-inch gloss black Kalimnos alloy wheels.
Further gloss black finishing is applied to the window surrounds and front grilles. Red painted brake callipers, black alloy wheels, body coloured front and rear spoilers and boot lid finish of the package. Customers also have the option to apply a 'XKR' side body graphic that runs along the door sills.
In addition to the Black Pack's exterior changes, the Jaguar Designers' Choice programme has also selected a range of interior trims. All 2011 Jaguar XKRs with the Black Pack will be trimmed with Charcoal leather hides that can be personalised with a range of colour stitching and grain. Three interior finishes and veneers for the fascia and door trims are also available – Dark Oak, Dark Mesh Aluminium and Piano Black.
Other enhancements to the standard 2011 models are red brake callipers and a tyre repair Instant Mobility System (IMS) on all XKR Coupe and Convertible models. By adding this system the 30-litre wheel well is now freed up, carpeted and can hold a specially designed and tailored XK accessory suitcase.
In the UK, retail pricing of the XK range starts at £61,955 for the 5.0 liter V8 petrol version. The Speed Pack costs £3,500 and the Speed and Black Pack costs £4,000. Both are available on 2011 Jaguar XKR Coupe only. There is no information on the availability of the packages in other countries, but we expect that Jaguar will sell the package across Europe and the US.