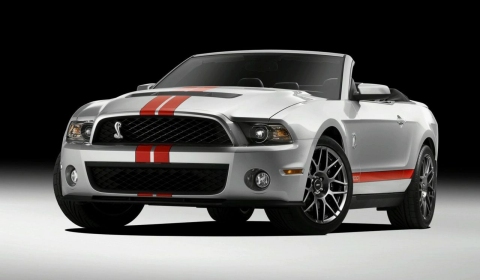 Ford has unveiled the new 2011 Shelby GT500 featuring an aluminum 5.4-liter V8 engine. The engine is based on the 5.0-liter V8 found in the 2011 Mustang GT. The additional 0.4-liters of displacement, an improved block structure, six-bolt billet main bearing caps and a supercharger are added to the block. The engine produces 550hp (410kW) and 510ft-lb (691Nm) of torque. The V8 engine gets 80 percent of its torque between 1,750 and 6,250 rpm. This is up 10hp from the 2010 model.
Ford also changed the electric power steering system, installed a new pedal box, reduced the ride height (11 millimeters in front, 8 millimeters at the rear), added slotted brake dust shields and installed a new 2.75-inch exhaust exhaust system. The 2011 model will also get standard 19-inch aluminum wheels.
Next to that there is an optional SVT Performance Package available. It features different styling accents, stiffer springs, a higher rear axle ratio and lightweight wheels wrapped in Goodyear Eagle F1 SuperCar tires.